Doctors
---
Drs. Pierre and Kay Tung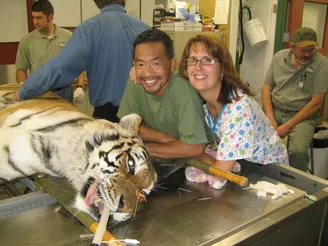 Drs. Pierre and Kay Tung are native Missourians, graduating from the University of Missouri College of Veterinary Medicine in 1981 and 1982, respectively. Dr. Pierre Tung has a special interest in dentistry as well as general surgery and internal medicine. He treats referral dental patients from around the state for a wide range of disorders including root canals, broken teeth, jaw fractures and orthodontics. He provides dental care for a variety of animals at the St. Louis Zoo including bears, kangaroos and panthers! Dr. Pierre enjoys tennis,
bicycling, paintball, and flying helicopters in his spare time. Dr. Kay Tung also practices internal medicine and surgery and enjoys treating "pocket pets" such as ferrets, rabbits, hamsters and guinea pigs. The Tungs have two human children, Sam and Robert, as well as a menagerie of furry kids- Hazel, Harriet, Harold, Hamlet, and Hector (All rescues!) They also have a cat named Jinx. Both doctors are members of the American Veterinary Medical Association, the Missouri Veterinary Association and the Greater St. Louis Veterinary Medical Association.
Dr. Erick Lutzeier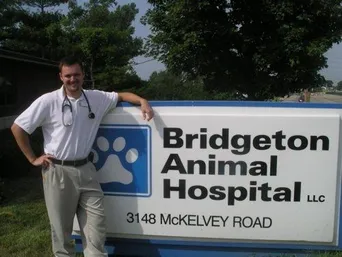 Dr. Erick Lutzeier graduated Magna Cum Laude from the University of Missouri in 2008. Originally from Kirkwood (Go Pioneers), He has returned to the area after two years practicing in Southwest Missouri.
Dr. Lutzeier's veterinary interests include arthritis management, neurology, and nephrology. In his spare time Dr. Lutzeier to cycle, target shoot, and ride his jetski.
He has a Pit Bull Mix, Rusty, who is still waiting for the day when he finally catches a squirrel (to play with) in the back yard.
Office Manager
---
Lonni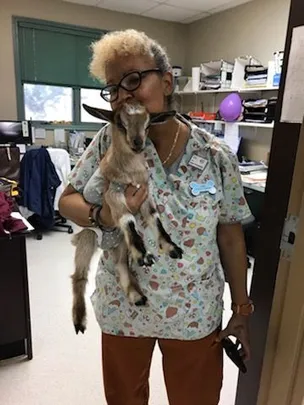 Lonni is our office manager who has worked with us since 2005 and started out as a receptionist. She is originally from California with a background in the field of veterinary medicine that started in 1995. In her spare time (which is rare!), she enjoys fishing, reading, bird watching and boating. Her love of animals is shared with her husband and 2 children. When Lonni is not at Bridgeton Animal Hospital working with your furbabies, she is spending time with her dog (Winston), a Bearded Dragon (Aaliyah), a turtle (Leroy) and the newest member of the family, a blue Quaker Parrot (Abner).
"I sincerely love my job. The doctors I work with are amazing and always willing to teach us new things. There isn't a day that goes by that I feel I haven't learned something new. My co-workers are my second family. In conversations outside of work, I'm the lucky one who says: 'I get to go to work!'- Not 'I have to go to work.' and for that I am truly thankful."


Assistant Manager
---
Heather
Heather started at Bridgeton Animal Hospital when she was 14, volunteering for 2 ½ years during High School. After graduating she went to Sanford Brown College to get her associates in Veterinary Technology. Since then, she has returned home to BAH, working mostly as an assistant for the past 11 years and then being promoted to assistant office manager. Heather is married and has one Maltese, Adyson. When Heather is not at BAH taking great care of our patients you can find her hanging out with her huge busy family, decorating and crafting.
Veterinary Technicians
---
Receptionists
---
Shannon
Shannon has worked as a veterinary receptionist for 25 years. In her spare time she enjoys going to the zoo, museums, camping and fishing. She has two feline fur babies: Curtis Loew and Aja.
"I love working in the vetereinary field, I find it rewarding to help clients take great care of their pets"