Welcome to Bridgeton Animal Hospital!
---
The check in process begins by greeting our clients as they walk in the door. We then like to weigh dogs by having them stand on our large scale near the desk. Cats and smaller dogs under 12 pounds are weighed on a baby scale in the exam rooms to ensure accuracy.

Small bottles of fresh water are available in our mini-fridge.
---
Our pharmacy area is where we keep all the necessary medications to help your pet's ailments.
For your convenience, our online store offers a wide variety of food and medications that can be delivered right to your door.
---
Here in the lab we run all kinds of samples to aid our doctors in figuring out what is wrong with your pet.
Here we run tests such as: Intestinal Parasite Exams, Heartworm Tests, Urinalyses, Pre-Surgical Panels and In-House Diagnostic Panels.
---
| [Exam Room 1] | [Exam Room 2] | [Exam Room 3] |
| --- | --- | --- |
Our exam rooms are specialized for your pets' different needs. The first room has an ear scope that allows our doctors to look DEEP into your pets ears to get to the root of the infection. There, clients can also get a look at what is really going on that they wouldn't otherwise be able to see.
Room 2 is where we typically see our canine friends for routine visits. The walls are decorated with informative brochures and posters about pets. We also have our beautiful collage in this room where owners will submit photos of their fur babies for us to display. If you'd like your pet to be on our wall, please bring a picture with you to your next visit!
Finally, Room 3 is our room for our feline patients. We always keep a feliway diffuser going to aid in soothing your cat's nerves and make their visit more calm.
---
This is our treatment area where we typically obtain our samples for the various tests your pet may need.
We also prep our surgery patients here in the morning by making sure their pre-surgical bloodwork looks great and placing the routine IV catheter for easier vein access.
---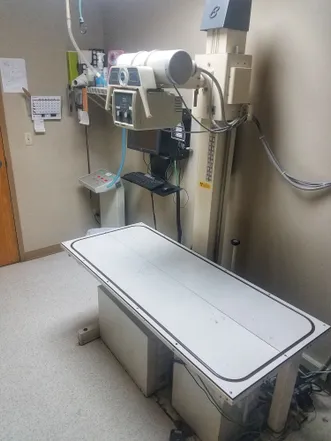 Here is our state-of-the-art digital x-ray system. All of our radiographs are available immediately and can be easily manipulated to allow our doctors an 'inside look' at your pet's issue.
---
Our surgery suite is equipped with many tools for monitoring pets while under anesthesia. This is where we perform our sterile procedures such as: Spays, Cystotomies, Orthopedic Surgeries, etc.